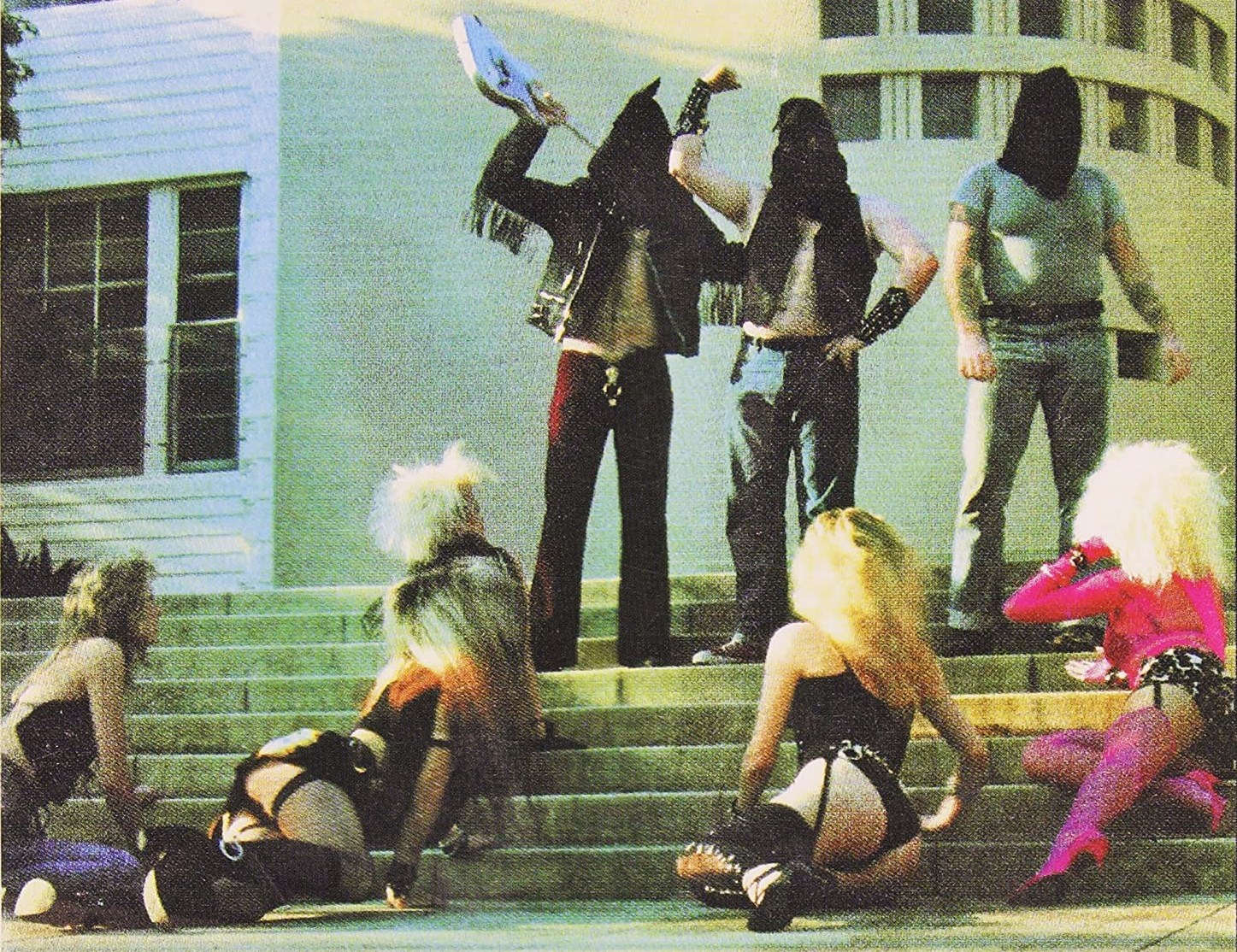 Már régóta álmodoztam róla, hogy ezt a cikket egyszer megcsinálom. Nem tudom lesz-e időtök végigrágni, de az biztos kurva élet, hogy nekem most volt időm megcsinálni. Tíz metál lemez, egy sincs köztük, ami geci híres, meg ilyen baszott peckes, mert ezek a bandák szerintem egy percig sem akarták, hogy bármi is szebb legyen. A szerelem pedig pont attól működik, hogy megvan a kémia. Vagyis háborúk, perverziók és blaszfémia. A hangzás és a tartalom között tehát úgy jött létre a harmónia, hogy rohadtul nem lett kicsinosítva. Ez egy igazi moslék metál válogatás.
A Hallows Eve egy viszonylag hosszú életű atlantai banda volt, ami 1983 környékén startolt olyasmi mezőnyben, mint az Exciter, a Razor és mondjuk a Carnivore. A Tales of Terror volt az első lemez, jó kis sakálkutya speed és thrash. A nyitónóta amúgy szerintem visz mindent, de a vonyítás és tekerés később se gyenge.
Az Abscess igazából az Autopsy három tagjának másik bandája, ahol végig az megy, hogy ők rá vannak kattanva a hugyos, dzsuvás punkra. A sztori elvileg ma is létezik, de nem hiszem, hogy lenne bennük annyi, mint az Urine Junkies válogatás idején. Vigyázz, mert most jön a vegytiszta death metál tré.
Három csaj Tokióból, akik úgy vannak sminkelve, mint putris zombik egy legalja japán horrorfilmben. Meg ez már nem is a nyolcvanas évek, de ők arra vannak rácsúszva. Hellhammer, Amebix, Darkthrone és azt kell mondjam, hogy jól hozzák a mocskot. A Gallhammer frontember Vivian Slaughter ma már egyébként Norvégiában él és Maniac - Mayhem, Wurdulak, Skitliv - felesége.
Hátborzongató, kétségbeesett, kiüresedett, depressziós. A Goatsblood egy olyan sludge banda Kanadából, akik hat év alatt összedobtak két albumot, azt mentek a levesbe. Az ördögtől való nihilistáknak ne is legyen jövője. Ezeknek se volt, ezért is abszolút szennyes, személyes kedvenc.
New Jersey death metál, olyan kellemesen lelakva, mint egy útszéli pokoltanya. Furcsa nőkhöz fűződő viszony, iszonyatos csajozási szokások, meg a többi beteg szarság. Az első Mortal Decay lemez sem akarta, hogy jobb legyen.
Ha pedig már perverziók, akkor jöhet El Duce, aki szintén elég rohadt alak. GG Allin haverja és az ő fasza kis bandája, vagyis a The Mentors. Csuklyában és letolt gatyával megy a heavy metál oktatás, okádék paraszt oltogatás.
Fentebb Maniac miatt már említettem, de ebben a Wurdulak balhéban még Killjoy is benne van, akik halála előtt a legendás Necrophagia frontembere is volt. Szóval számíthatsz tocsogó horrora, norvég black metálra és természetesen minőségi Isten káromlásra is. Totál romlott moslék.
Nem "home office" hanem Coroner's Office! Világbajnok morbid moshpit a nyolcvanas évekből, ez a Post Mortem. Kibaszott gyors thrash, mosdatlan crossover és a súlynak némi doom. Nyers hangzású, régi vágású gyilkos egy album ez!
A nevük is jó a zene is jó. Meg szerintem elég sok minden elárul a borító. A Sublime Cadaveric Decomposition egy kiborító francia goregrind banda, akiknek ez volt az első albuma. Véres, belezős, aberrált emberi zsákutca, de mintha tanítani kéne.
Ennyi kínzás után pedig legyen valami felemelő is, vagyis egy igazi heavy metál románc a sátánnal. A Tyrant meglehetősen gonosz atmoszférába burkolózott amerikai banda a nyolcvanas évek második feléből, aki elég stílusban vezetik fel, hogy imádkozni már túl késő. Pokolian hatalmas imádat!