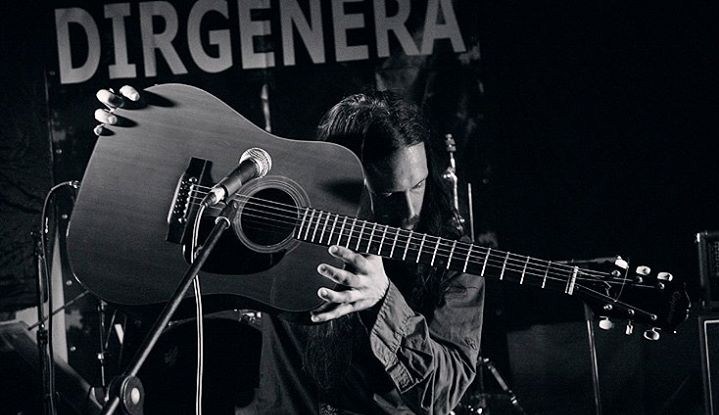 Nagyon lentről indul, de az emberfeletti fölé is felér. Túlzó módon dicsőíteni talán pont ezért nem ér. A fazon, azaz Bruce Lamont érzésem szerint ugyanis azért van ott az undergroundban ahol, mert neki nem lenne jó máshol sehol. Én viszont abszolút az adósa vagyok, mert érzésben már annyit adott, szóval gondoltam rajongok kicsit és összeszedem egy életműcikkben az emlékezetes felvételeit, mindig roppant egyedi hangzású számos bandájától. Szerintem Bruce is az a fajta forma, akinek a történetét leginkább a zenéi adják vissza - ott mindig túl közel van - semhogy szavakban lenne oltva. Chicagói bandákban tűnt fel a kilencvenes évek eleje óta, pár éve viszont kiszélesedett a spektrum, meg képbe került pár hasonlóan komoly karakter, egy-két még komolyabb projekthez. 
Bruce Lamont második zenekara, olyan formabontó és kultikus albumokkal, mint a Transmutations és a Samsara. A Yakuza elsősorban a jazz miatt érdekes, ezért nincsenek szokványos dalszerkezetek, de a lelkülete leginkább a folklórban gyökerezik és ezt az érzést sikerült a metálba is átmenteni. Frontemberünknek még tinédzserkorában volt egy Led Zeppelin feldolgozásbandája és az utolsó előtti albumot pont azért választottam, azért a kedvencem, mert a rocklegendák hatása letisztulva, de az anyag spirituális értékét magasan megemelve jelenik meg. Minden korábbinál természetesebb lemez, elképesztően kiforrott stílusban, ahol minden a helyén van. Lamont itt szolidabb a szaxofonszólókat tekintve, de az olyan számokban, mint a Be That As It May és Deluge hatalmasat megy az énekkel. 
A fenti albummal azonos évben jött ki a kétszemélyes projekt lemeze, ahol a másik alkotó nem más, mint Sanford Parker. A Circle of Animals pedig nemcsak simán újabb szertartás, amit bemutat a chicagói underground két abszolút kreatív arca, hanem zeneileg is fontos mérföldkő. Ugyanis az évekkel később megjelenő Corrections House és Mirrors For Psyhic Warfare lemezeken Sanford Parker hasonló hangzást használ, mint ahogy a Destroy the Light esetében is összerakta az elektronikát. Bruce hozza ezt a nagyon közép-amerikai dark / folk tónust, az effektek és dobgépes alapok viszont az ipari zenék és főleg Kanada irányából jönnek. A határfeszegető nyolcvanas évek és a monoton noise rock hullámok. Skinny Puppy, The Birthday Party, korai Ministry. Az ...And Together We Are Forever érzésre mégis mintegy gothic americana nóta.  
Bölénytetemek millióival szegélyezett végtelen utak, szent hegyek és szekérvárosok, elnyűtt arcok egy kemény tájon. A Descent lemez szerintem az államok születésének véres vallomása, poszt-rock és poszt-metál elemekből elindulva, de a poros westernfilmek zenéinek hangulata, amitől mérhetetlenül monumentális az egész. Később készült még egy lemez, de az olyan számok, mint a Fallen és  Dead Inside felülmúlhatatlanok maradtak. Egészen biztos, hogy misztikus őslakos lelke van a dobosnak, de Bruce hangja is szertartásba hajlik. 
A legtöbb vallási közösségnek van világvége elmélete, ezek a tagok meg a zenében festik le, hogy milyen lesz és milyen kurva közel van a legvége. A Corrections House második lemeze gépzajokban kegyetlen, szövegeit tekintve szívtelen, de ugyanakkor epikus és reménytelenül apokaliptikus anyag. Scott Kelly és Mike Williams hozzák az éneket, de az egész merőben más, mint a Neurosis és az Eyehategod. Pont attól rettentően eklektikus, hogy a Sanford Parker által programozott rideg, pengeéles és zajos alapok, meg Bruce Lamont kezében az időtlen szaxofon, hogyan égetik a végítélet verseket, hogy a szavak a szólamok közt csak szállnak, mint a pernye. 
Adott egy okos grindcore dobos, mint Dave Witte és persze Bruce Lamont a szaxofonon. Őket egészíti ki Aaron Dallison basszusgitáron és pattog-búg is az egyik legbetegebb szerelem Brain Tentacles néven. Szabálytalan noise-jazz sötét alagút hangulatban, lidérceket táncoltatva. Kivételes zenei csemege, ahol nekem a Cosmic Warriors Girth Curse kilenc perce jelentette a csúcsot. Pont a szaxofon miatt hagyod el a bolygót, úgy egy számban háromszor is. 
Tegnap pont a Feral Songs For The Epic Decline című első szólólemezét hallgattam és fent maradtam a buszon, elfelejtettem leszállni. Van olyan, hogy tudod, hogy neked szól ez a faszi és nem túl nehéz elröppenni. Nekem a második anyag is olyan, mint a country, csak kísérletezőbb és nehezebb zenei elemekkel, de mégis valahogy úgy szólít meg. A Goodbye Electric Sunday a kedvencem, mert őrlő és sötét, ahogy az én múltam is. A hipnotikus gitár itt is jól bele van olvasztva a vészjósló elektronikus háttérbe. 
Legutolsó sorban pedig egy viszonylag friss felállás, akik Sick Gazelle néven tavaly hozták ki első lemezüket, melynek Odum lett a címe. Kísérletező, főleg instrumentális krautrock, ahol teljesen máshogy szólnak Bruce által a fúvósok, valahogy egyszerre teátrális és füstös kis klub jazz, amit játszik. Az új bandában a dobos pedig az a Steve Shelley, aki elsősorban a Sonic Youth miatt ismerős, de majd másik életmű cikkben is előkerül, ahol Sanford Parker lemezeket készülök összeszedni és Shelley úgy fest szeret chicagóiakkal kísérletezni. Közös játékuk az Atlantic című első számban már mindent visz. A Lamont életmű elég színes, de szerintem jöhet még pár Sick Gazelle lemez is. 
Fentebb Scott Kelly is szóba került és Bruce Lamont számomra ugyanott van. Valahogy mélyen megérint, amit csinálnak bármely felállásban, dalban, vagy lemezen, mert a zene lelkülete tőlük valahogy ugyanolyan éteri és emberen túli lesz. Épp ezért főleg az embertelen napokon hallgatom őket és egyértelműen közösséget érzek, mert szerintem együtt vagyunk túlélők egy idegen vidéken.