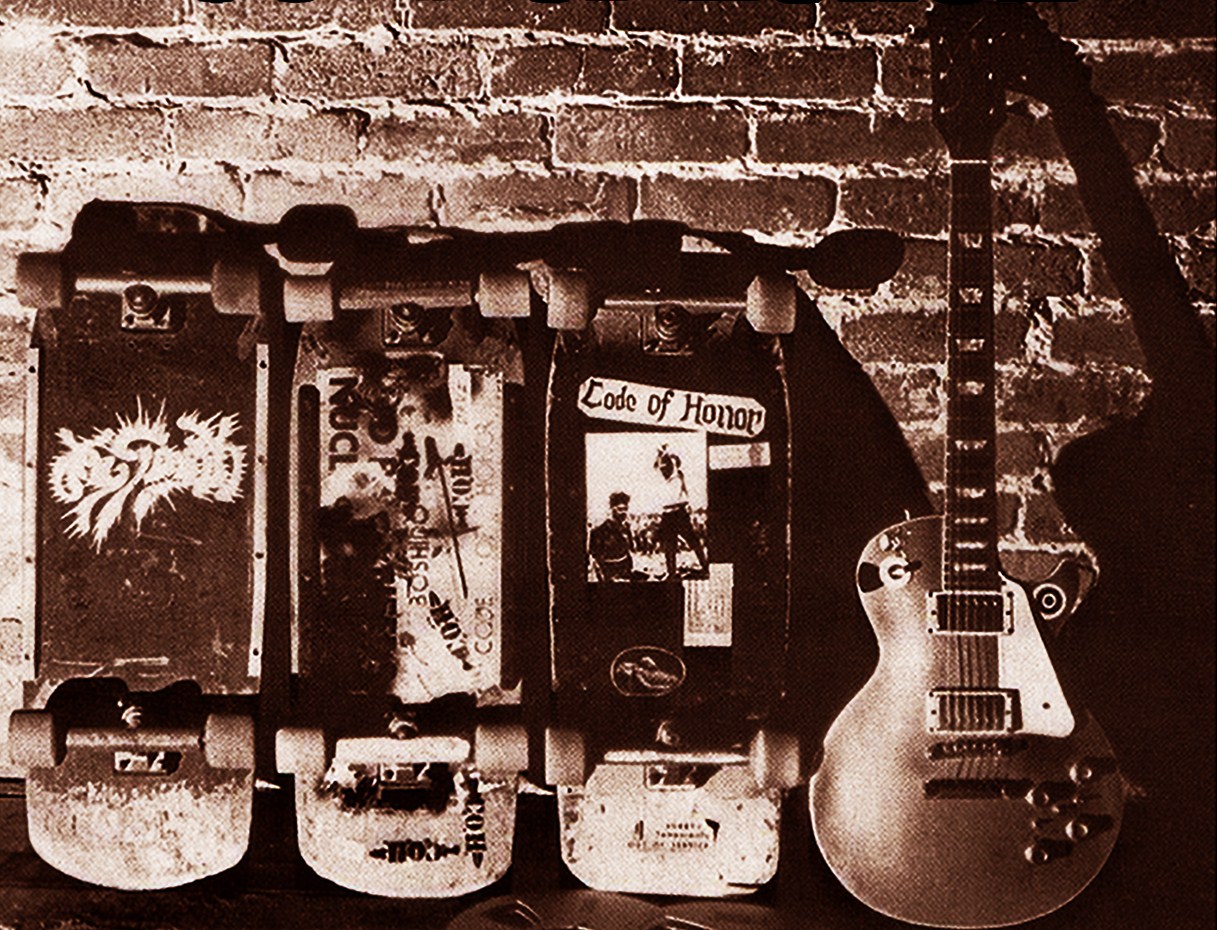 Amikor olyan híreket olvasol, hogy a rendőrök elismerték, hogy volt választásai csalás, de az ügyet megszüntették, mert nem bizonyítható, hogy volt választási csalás, ott nincsenek kérdések. Mikor a nagygazda azt mondja, hogy a másik miatt van minden, aztán látod, hogy pont azzal fog kezet egy új üzletre a tévében, akkor tudod, hogy már régóta 1984 van. De a punkban legalább volt 1983 is! A tehetetlenség üres óráiban pedig belelehet bámulni az internetbe és szotyizgatni a régi lemezek között, találjunk a múltban együtt örömöt, ha már a jövőnk kifosztóit sajnos nem koncolhatjuk fel. A vak velük ünnepel, itt meg 1983 környékén járunk...
Amszterdamban zenélt ez a pár holland barátunk, akiknek a felvázolt jövő szintén nem volt a barátja. A Funeral Oration első kislemezének címéből szerintem ez simán kiderül. A There's Nothing Left to Laugh kellemes és dallamos, koszos pincezene. Az a fajta felpörgetett punk, ami kapkodni fog a levegő után, de mindig is. 
Az kurva vicces, hogy 1983 magasságában még szinte sehol nem volt a thrash, de a punk bandák már ezerrel nyüzsögtek a crossover vonalon. Ezért nincs vita azon, hogy a punk a legnagyobb hatalom, mert a legjobb metál lemezeket is punkok csinálták meg. Ez a Powertrip Jeff Dahl bandája volt az Angry Samoans után és simán csak kurva jó. 
Bostoni pionírok, szevasztok! Az Impact Unit a ti bandátok! A helyi hardcore színtér egyik legnagyobb hatású cucca, amit 1983-ban vettek fel, de hivatalosan csak öt évvel később jelent meg. A történet rövid életű volt, az olyan tagok, mint Dicky Barrett és Ross Luongo nagyon hamar más, egyébként szintén legendás bandákban kötöttek ki. Az összesen öt szám viszont megkerülhetetlen. Hallgasd meg a Nightstalker című számot! Geci gonosz, geci nagy tanár!
A harmadik szám elején az a gitár által tett gyönyörű megszomorodás és aztán a pattogó basszusszóló is kajak az aranytartalék része, mármint a nardcore színtér történetét tekintve. Fasza dallamos deszkás crossover Kaliforniából, az igazság az, hogy az Agression se hibázott. Az ultra köcsög Reagan korszak is kurva jót tett a punknak. Utcán voltak a kölykök, mert okádtak a sok faszságtól ők is.  
Kicsit amcsi lett az egyveleg, de ezekre legalább hatottak az angolok. The Mob és Zounds meg ilyenek. A Code of Honor nyolcvankettőből lóg a hetvenhetesekbe, meg kicsit olyan is, mint a Hüsker Dü. Kaliforniaiak, szóval alap, hogy dallamosabbak, de néha azért  berecsegnek, tornádó témák is vannak, szóval elég sokszor meglepnek. Például a világbajnok szövegekkel, amiket hallgatva képtelenség nem azt érezni, hogy ez volt a punk legjobb időszaka. Pedig a gitárosuk később leírta, hogy azokban az években mikor ez a két lemez is született - 1982 - 1984 - a rendőrök még jobb helyek előtt is verték a közönséget. Nem volt könnyű az élet arrafelé sem.