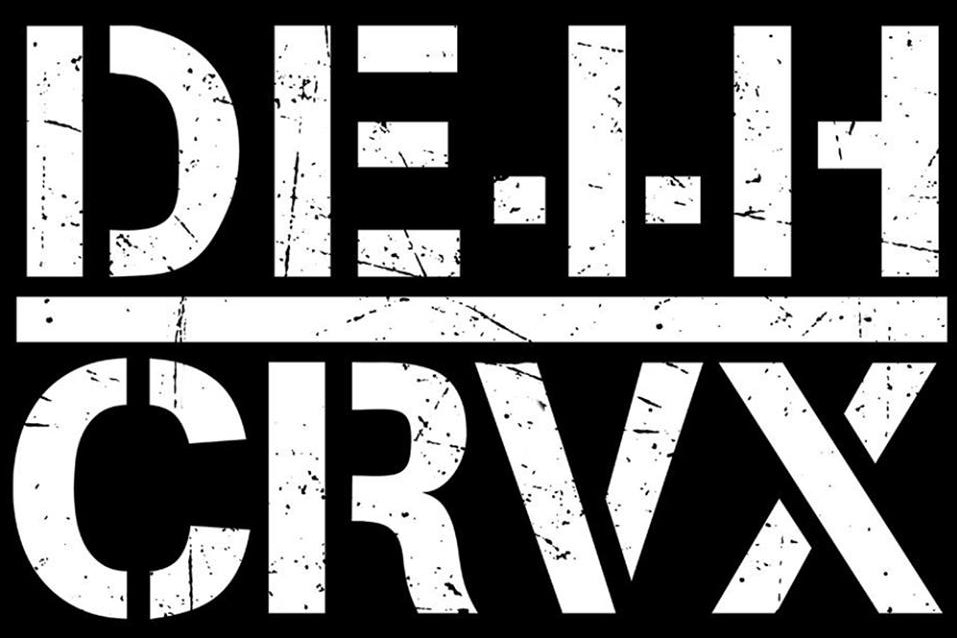 Megcsináltam az éves toplistámat, gondoltam meghallgattam mindent, amit meg kellett és mint lezárt ügynek, nyugodtan fordíthatok hátat az idei évnek. Aztán robbant a bomba a kibaszott lemezboltba és a Deth Crux első nagylemezével borult minden halomba. Ez a későn megjelent anyag ugyanis nem a piti kis listámat, hanem egyenesen a lelkemet aknázta alá és az érzéseket, amiket kifacsar, egyfolytában detonációk követnek, mint egy negyven percen át. A jövő nagyvárosinak falairól leolvadó neonkeresztek fényében, ahol mutánsok és alakváltók bolyonganak felajzva egyetlen reményükkel, hogy a félrobot kurvák közt majd hazatalálnak az élet legalantasabb rétegében. A Buried At Sea és a Lighting Swords Of Death tagjai tehát jól megcsinálták. Vagy mondhatnám úgy is, hogy jól megcsináltak. Négyszer hallgattam meg elsőre és egymás után a Mutant Flesh lemezt.
Mostanában egyébként is sokat gondoltam a Szárnyas Fejvadász című remekműre. Az ablakommal szemben lévő erkélyre egy arc olyan mennyiségű fényt pakolt fel, hogy este mikor kinyomok mindent, zöldben, lilában, kékben és sárgában úszik az egész szobám. Szóval nem nehéz beleképzelni magam és eszembe jutott, hogy annyiszor láttam ezeket a cyberpunk kultikusokat, hogyha egyszer tényleg olyan lesz és még élek, végül is csak hazatérek. Mert idővel minden a helyére kerül, mint például a zenében is. Ahol a korai tinédzserévekben simán megtörtént, hogy rácsúsztam pár Depeche Mode albumra és egy időre simán lehasítottam mondjuk a metált. A Mode őrülteknél meg ott voltak a Sister of Mercy, a Christian Death és persze a Cure lemezek, amik szintén kurvára be tudtak szippantani. De aztán jött a hardcore és megint minden ment a levesbe, mert sokáig csak az volt.
Később viszont minden előjön, én legalábbis ezt vettem észre és az olyan bandák, mint Alaric, Beastmilk, Fotocrime és hasonlók, abszolút visszacsempészték a death rock vonalat az életembe. Viszont ezt a reneszánszt most úgy érzem a Deth Crux koronázza meg és mennyire érdekes, hogy ezt a lemezt is súlyos metál arcok hozták össze végül. Akinél ez valószínűleg szintén odafordulás és a kora tinédzser kori rajongásnak szóló tisztelet is egyben. Ebben a tíz számban pedig érezhető a bejárt út, mert valóban a nyolcvanas évek dark bandái hatottak a legerősebben, de azért van itt még pár dolog, amire érdemes odafigyelni. Időnkét ugyanis rohadt keményen horzsol, zajos és agresszív, a Spectral Other például inkább súlyos, mint elegáns.
A címadó tétel gitárjai meg olyanok, amik hardcore / punk lemezen is elmennének, most sokan is használják ott ezt a hangzást. Persze van ipari zúzda és kifinomult elegancia is. A Xenophilia egy az egyben Robert Smith szelleme, de az ének igazából minden nagyon megidéz és aztán eldurvul. Rengeteg izgalmas és felkorbácsoló zenei megoldás, de tényleg. Egy Sanford Parker kezét dicsérő stúdiómunkával és Bruce Lamont vendégjátékával szaxofonon, hogy még apokaliptikusabb legyen a képlet. Milyen érdekes, hogy mindketten szerepeltek az éves kedvenceim között és most megint találkoztam velük. A horror szintetikus és élő panoptikumában, elveszve a sosem volt hétfők zuhatagában, ahol szintetizátoristenek öltöztetik latexba a metrópoliszokat, mert megint jön a savas eső. Az ő himnuszuk a Yellow Sky is, de nekem is elszállt tőle teljesen az agyam. Imádat van és átváltozás. Alkalmazkodni kell, ha szélsőségesen változnak a körülmények és egyre szélsőségesebb, de fenkölt zenék jönnek..