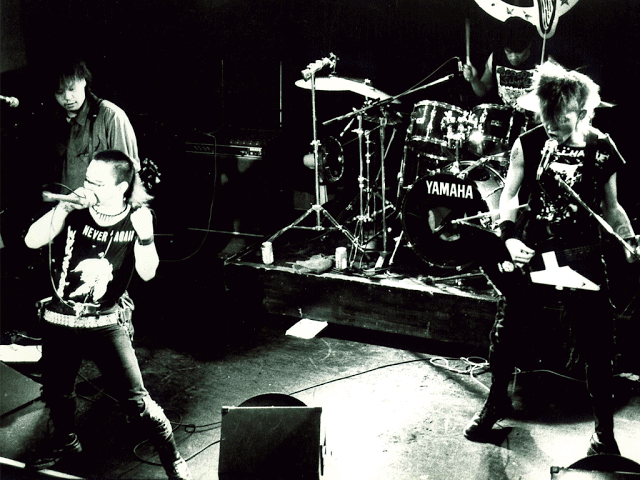 Van olyan, hogy az új zenék épp nem kapnak el, de olyan nincs, hogy nagy baj legyen, mert mindig van hova visszanyúlni. A japán hardcore punk jelentőségét szerintem senkinek nem szükséges újrarágni, de random rajongani érte simán bárhol és bármikor. Szépszámú legenda, meg azoknak az összes cucca, plusz mindig van egy újabb név, egy lemez, ami keményen beakad. Vagyis egészen pontosan most négy - ahol van is némi átfedés - ezeket porolta le és pörgette meg az emlékezet, gondoltam építek belőlük egy tök jó cikket. Ha már a tök jó, tök olyan, mint Tokyo...
Bár ezen gyűjtés első bandájának otthona épp Sapporo. Ott szerveződött zenekarrá a Slang a nyolcvanas évek második felében és lett később ikonikus név a színtéren. Érdekes kombinációja a klasszikus japán metál / punk hangzásnak és a tipikus New York hardcore vonalnak. Némely korábbi albumon beatdown tempókkal keverték a Motörhead crust beton monoton témáit, ami elég sokat dobott az olyan lemezeken, mint Skilled Rhythm Kills. Nekem viszont a Devastation In The Void akadt be, főleg a dobhangzás miatt, meg mert jó sötét és ragad, mint az állat. Miközben ott van a perfekcionizmus, a briliáns szólok, az ugató énekkel furcsa egyvelegben. Ezen a nyolcadik és egyben utolsó albumon, ami négy éve jelent meg.
Alap, hogy a GISM és a Death Side meg persze a Crow. Ezek hatását nem lehet nem hallani minden más japán cuccon, amit azután vettek fel, miután őket szarrá hallgatták. Mindhárom banda atom penge, nagyon komálom, hogy a paraszt d-beat és heavy metál mehet egybe, érzésre hatalmas okosság, ahogy durván rombol, a giccses gitár meg belerongyol és az egész épp annyira crust, mint amennyire rock and roll, erre arrafelé nagyon ráéreztek. Bloody Tear rommá van hallgatva, japán szövegekkel baszki, sokkal jobb az élet. Vagy sokkal rohadtabb.
A legjobb Death Side utódbanda. A japán zenekarok - The Stalin, Nurse, Gauze - mind tartották a punkban ezt a rock and roll ízt, de a Paintbox a hetvenes évekből még ezen felül is pakolt bőven. Nagyon tetszik, ahogy Thin Lizzy hatása átmegy hardcore punkba és Chelsea új bandája megírta ezeket a himnuszokat, iszonyat jól húz az egész. Négy lemezük jelent meg tíz év alatt, egyre pszichedelikusabb irányba mentek, Pink Floyd is bejött meg minden, de nekem az első album égett be. Nagyon fura, megtekert hangzása van, mégis totál legendás punk lemez. Tök érdekes.
Aztán a Forward, szintén Death Side és Insane Youth tagokkal, vegytiszta rock and roll hardcore punk. Viszont jóval dallamosabb, mint a többi itt fentebb, rohadtul bírtam a slágeres refréneket, ahogy az üvöltözésbe ékelődnek. Simán olyan, mint a japán Zeke, közben szájharmonika, kis d-beat plusz ökölrázás és a többi. A banda pedig máig aktív, a Just Go Forward To Death után még három albumot hoztak ki. Az utolsót amúgy tavaly. De ettől még az első a kedvenc. Ha pedig alább és fentebb valami még nincsen meg, a Mad Blast of Chaos blog lesz a barátod. Japánokból nagyon jó...