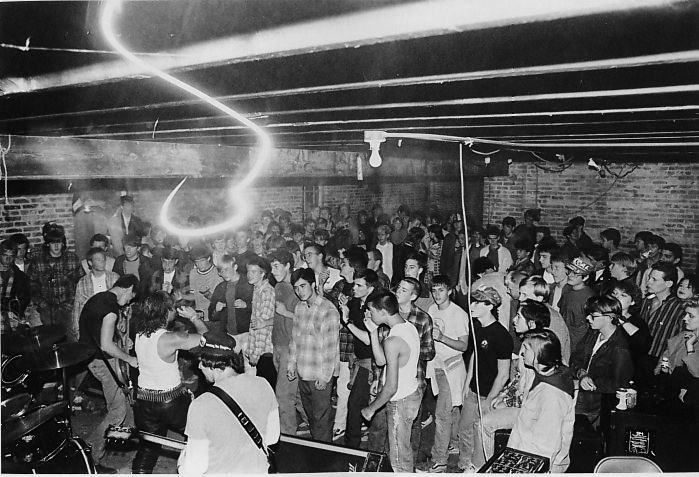 A tuskó hardcore nagyon megy. Rohadt sok fasza, lecsupaszított, zajos cucc van manapság. A punk kultúrához azonban szorosan tartoztak azok a kísérletező, fura, kitekert hangzású bandák is, akikkel olyan nagyot ment például a nyolcvanas évek. Ezekkel kapcsolatban van bennem hiányérzet, de szerencsére még most is rengeteg olyan régi zenekar neve kerül elő, akik elég elszigetelten alkottak ahhoz, hogy túl sok mindenki ne érjen hozzájuk. Nem hordta a pólójukat Kurt Cobain, nem az Alternative Tentacles adta ki a lemezeiket és nem játszottak a Nomeansno vagy a Flipper előtt, de ettől még keményen hozzátették a magukét a témában felsorolható korlenyomat bandák érájához. Ahogy a Power Of The Spoken Word és a Spike In Vain zenekarok is. Akiknek egy-egy lemezét szedtem most elő.
Kivételesen nem az Opium Hum blog posztjaitól elindulva - általában ott futok bele régi újdonságokba - hanem egy véletlen kattintás folytán. Először a Power of the Spoken Word második lemezére, amit mindjárt kétszer is meghallgattam és persze kicsit utánaolvastam a dolgoknak. A sztori pedig elég rövid. A zenekar nebraskai és elég messze volt azoktól a színterektől, ahol nagyobb támogatást tudott adni egy jobb kiadó, volt közönség és a többi. Ez viszont lényegtelen volt abból a szempontból, hogy a The Language Of A Dying Breed mennyire fasza lemez lett. Pont olyan, mint amilyet csak amatőr gimnazisták tudnak csinálni, akik a szüleik pszichedelikus lemezein nőttek fel, de ők már csak punk zenét hallgattak a garázsban. Kicsit megcsúszott az arcuk és akartak valami sajátot, végül pedig a körülményekből adódóan valami egészen szürreális cucc született. Én bírom,ha így csúsznak a dolgok, meg azt is ha egy punk lemezen nő is énekel. Fura hangzású, igazi művész punk, tök ösztönből. Nem mondom, hogy kár, hogy ezután abba is hagyták, mert így legalább ez maradt az egyetlen.
A Spike In Vain pedig már onnan jött, hogy a fenti bandáról szóló kevés cikk egyikében az ő nevüket találtam meg, mint hivatkozási alap. Hasonlóság pedig nem csak a hangzásban és a hozzáállásban van. Ugyanis a Spike In Vain szintén két anyagot készített összesen, amiből a második, azaz a Disease In Relative kapott lemezkiadást. Vagyis szintén az egyetlen és az év amikor felvették szintén 1984. A színtér pedig Ohio, valahol Cleveland környékén. A zene meg iszonyat vad, zakatoló, kísérleti fázis, ami nem lett stabilizálva. Ezek nem megelőzték, hanem megfertőzték a korukat. Szóval megint egy pár tinédzser, akik azzal égették meg a kezüket, hogy kilopták a székeket az istenek segge alól. A Dead Kennedys és a Scrath Acid közé beszorulva. Iszonyat jó ez a 35 perc. Ilyen múlttal kitömni a jelent és akkor a jelenre sem lehet semmi panasz.